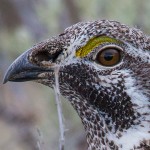 I've now been at Chicken Camp for a few weeks. Ryane and Gail got the camp set up and the crew oriented, so I was stepping into a well-oiled machine when my 9-seater turbo-prop touched down in Riverton. There was a light snowfall just after I arrived, and that lead to some great photo opportunities on Chugwater. I shared my first morning on the lek with a birder/blogger/education graduate student named Christian who was visiting camp for the day. It was fun to share the grouse and our project with him, and to learn about his ambitious project to use a "big year" (seeing as many species as possible) as a way to connect with birders and learn about how they use technology and form communities. His website is worth a look: thebirdingproject.com
After Christian left, we caught a HUGE winter storm, that over two days dumped at least a couple of feet of snow. I can only remember one storm that left this much– back in 2007, we had another 2+ feet that fell just after peak breeding and left a 3 day hole in our daily observations at Monument lek.
Needless to say we were kept off the leks for a few days for a few days with this year's storm as well. Chugwater lek is fairly accessible, so we were back there after 3 days. Cottontail took another couple of days, and required a tough effort to forge a path there.
We had another visitor, Brett Sandercock from Kansas State University, who came out to Chicken Camp for the weekend. I knew Brett from my Berkeley days when he was a post-doc and I was a wee grad student. We've since crossed paths as grouse-ologists– Brett has been working on Prairie Chickens in the Midwest for a number of years. It was fun getting to show him sage-grouse for the first time!
We also managed a quick afternoon trip to the Nature Conservancy area in Red Canyon.
The snow seemed to extend the peak in breeding this year, and we had a lot of females showing up in the first week or so after the big storm. From the few banded females we have, we know they were there before the snow and came back again after, suggesting they might have abandoned their first nesting attempt.
A very few females we can tell individually even with out bands. Ryane had sent me a digiscope of a white-feathered female that was seen a couple of times early in the season. It came back last week, and one day I was on the lek and able to get some shots.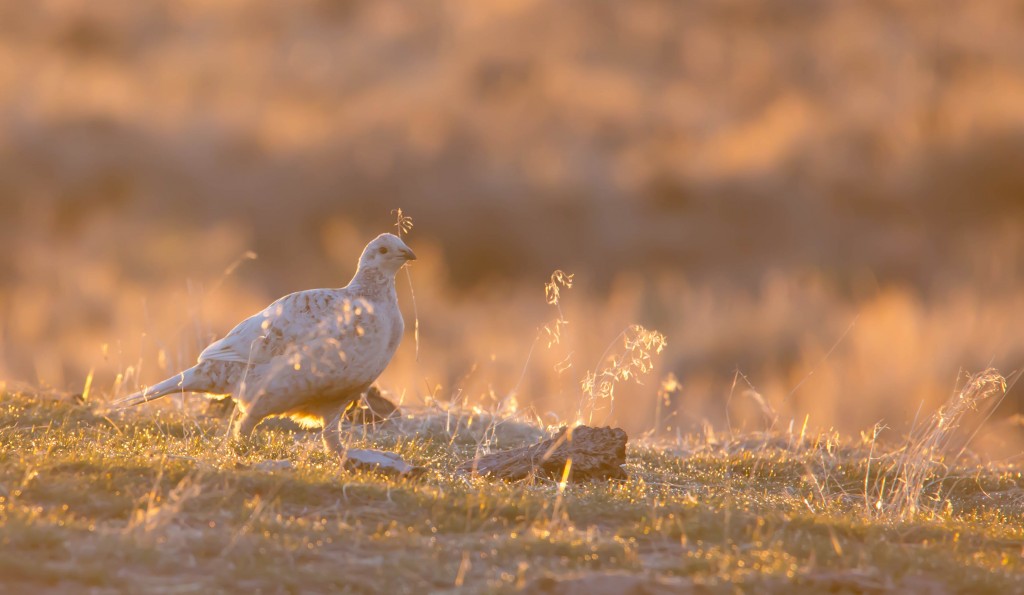 Losing a nest is generally a bad thing, but our Game and Fish contact said that we shouldn't be concern. Any females that got caught by the storm were breeding early, and have plenty of time to try a second nest. Add to that the huge benefit that the big pulse of moisture will provide to the ecosystem. It looks to be a green spring out here, which should mean lots of new growth and insects for the chicks.
With fewer and fewer females showing up every day, we finally have a chance to start our experiments for the year. I'll leave the topic of those for another post.