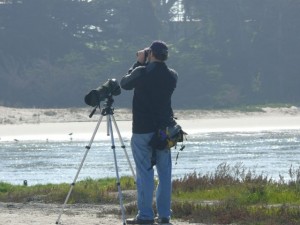 I am collecting links and resources for birding and bird identification as well as links to ornithological societies.This is not meant to be an exhaustive list, but just a place to get started. Let me know if there is something you would like to see here!
For birding on the UC Davis campus, let me know if you would like access to our email list or facebook page. I am currently an administrator for these so I can answer any questions you might have.
General Bird Resources

Want some natural history information on birds? Birds of North America is like wikipedia for birds (but authored by experts in the field). It requires an institutional subscription, so you can get to it on most college campuses or if you know how to set up proxy service on your home computer. Don't have access? All About Birds is the free (lite) version. There are online resources to help identify birds such as Whatbird, but I have not used these extensively.  Another site to check out is BirdNote. The resources page has FAQs for birding as well as general bird questions like what to do if you find a dead or injured birds.
Birding
Want to know which birds are being seen in your area? These days you can easily sign up for email alerts to learn about birds in your local area. Where there is a lot of birding activity, there could be many different lists. For example, in the San Francisco Bay area, there are separate lists for each part of the bay (south bay, east bay, north bay, San Francisco, as well as Northern California rare bird alerts. Birdingonthe.net and digest.sialia.net are two meta sites for much of this information (sialia is a bit more modern and probably the one I would recommend).
Many of these email lists are run by local Audubon Societies. Audubon has a national organization (which puts out the Audubon magazine, and advocates for national conservation issues), as well as state and local chapters that generally limit their activity to issues and activities of regional interest. Some of the many Bay Area local chapters are the Golden Gate Audubon Society, Mt. Diablo Audubon Society, and Yolo Audubon Society.
There are several other birding organizations, the most notable of which is the American Birding Association. I want to bring particular attention to the birding code of ethics. In short, don't do anything that could negatively impact birds, birders, or the public.
Beginning Birding Advice
My general advice if you are getting interested in birding:
1) Get a good pair of binoculars. In my experience, good beginning bins can be in the $200-500 range. I'd aim for 8x 32 or 8×42 (8 is the magnification, 42 is the field of view, with bigger numbers meaning you see more at one time), light weight, and weatherproof- you should be able to get something in this range from any number of companies including but not limited to Nikon, Leopold, Swift, Eagle Optics. If you can try them out at a store and see which work best for your hands and eyes, that is usually the best way to judge.
The Audubon Society compiled binocular ratings for anything from inexpensive entry level pairs to top-of-the line models. For some recent (2013) ratings and advice, check out this page from Cornell. They even have a fairly comprehensive Price x Quality matrix to help choose the best binoculars you can afford, or see what those extra dollars will get you. Another good breakdown of good options at various price levels can be found at birdwatching.com. Also check out Best Binocular Reviews.
2) Get a "real" field guide- one that covers all the birds in the country or region, includes images of juvenile and adult birds, as well as images or photos of males and females. There are a number of good guides available such as Sibley, National Geographic, and National Audubon Society. These are all reasonably cheap investments (~$20). Note that many publishers also have guides just for the Eastern/Western U.S. These can be nice in addition to or instead of a guide that covers the whole continent, since they can be smaller and don't "waste space" on birds you are very unlikely to see where you do most of your birding. Eventually you may want one of these full coverage guides, however, since some of the excitement of birding stems from finding those vagrant birds that are less frequently found in your area.
Modern technology now brings field guides to your tablet, smart phone, or e-reader. I have iBird which is a good supplement but seems like it might be hard if you don't know what you are looking for. I also have the Sibley app and Peterson App. Some of these also have audio files that let you listen to example songs or calls. This can be really useful since so much of birding is identifying by sound.
3) Get birding friends. Birding with other people is really the best way to improve your birding skills, and tends to make birding more fun. Your local Audubon Society should have various bird-finding trips scheduled throughout the year. If you are in the Davis area, feel free email me to join the UC Davis birding list to learn about our lunch walks in the Arboretum.
4) Do a little homework. If you plan to visit a popular local birding spot, find out what people are seeing there by reading the postings. If you expect to encounter unfamiliar birds, choose a few target birds that you want to identify, and look them up in your field guide ahead of time. Read up on the field marks and how to distinguish them from other species.  Also check out eBird (see below).
5) There's no substitute for experience. The more you are out there seeing birds in their natural postures, behaviors, and habitats, the easier time you'll have in quickly identifying birds. Also, the more you actually go through the process of ID'ing live birds, the more you'll start to cue in on the particular characteristics of different groups of birds that tend to be important for diagnosis.
Thanks to a young reader who brought this site to my attention.
Got any other general advice? Any good links? Let me know.
Ornithological Societies
Links to most North American academic societies for the study of birds can be found at the Ornithological Societies of North America site. This is a great place to learn about grants, upcoming conferences and symposia, and to advertise or find bird-related jobs.
Bird Data
Scientists and birders have been keeping track of birds for a long time. If you are interested in finding raw data on where birds live and how many there are, you are in luck! There are several extensive online data repositories that are free to use.
Ornis. Ornis is data on dead birds. Specifically, bird specimens in housed in the scientific collections of museums. Very handy if you want to know which museums have which specimens, and also for older data since many of the 19th and early 20th century biologists were collectors.
Audubon Christmas Bird Counts. These counts of bird populations were one of the first citizen science programs, and were initiated as an alternative to the tradition of competitive bird shooting. Some counts may go back 100 years now (most go back a few decades), but are limited to winter bird populations and are limited to distinct count circles. Some areas may have a number of counts and fairly good coverage, while other areas are much more sparsely surveyed.
Breeding Bird Survey data. These data are collected by the USGS. Experts perform point counts along set transects in the summer to record breeding birds.
eBird. A relatively new citizen science initiative, it seeks to be an extensive public database for bird sightings. Although it began in 2002, eBird allows the entry of "historical" sightings, so its coverage will grow backwards as well as forwards as more people enter data. You can use eBird as your personal database, to keep track of birds you've seen in different places or across different time scales, and those data are then available to scientists (or you) to study broader trends in bird numbers and distributions. EBird just released a new feature called eBird Targets that compares your cumulative list with the lists in a certain area, so you can figure out what you might see that you haven't seen before. You can configure this to send you email alerts at the county or state level too.
Want bird sounds or video? You can perform general web searches (e.g. Flickr, YouTube), but if you want "official" videos that have been cataloged by ornithologists, the first place to check would be the Macaulay Library at the Cornell Laboratory of Ornithology. This certainly isn't the only place (e.g. Borror Lab at Ohio State). Xeno-Canto is a kind of open YouTube for sounds including birds.