We are making some progress with the Encounternet tags. Getting the tags out on the birds has gone quite well actually. Ten or 11 of our 13 tags are deployed on male sage-grouse at the moment, and we kept those last two back to be able to carry out tests back at camp. Frank and Julia have excelled in the role of banding technicians. I've been out with them several times now, and many nights we'll catch ~4 birds- a good haul and much better than our past attempts at spotlighting.
The harnesses seem to be holding up as well- none have fallen off yet, and the tagged birds are showing up on the lek and performing their full suite of fighting and display behaviors.
As a reminder, our goal with these tags is to collect positional data on the males, and to know something about their behavior at these positions. In particular, we want to know where the males are foraging so we can visit these sites and determine the nutritional and chemical quality of the sagebrush they are eating.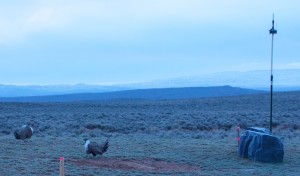 We are learning that getting these data off of the tags is a non-trivial task. One issue has been the relatively weak signal strength from the tags themselves. Traditional radiotelemetry uses lower frequency pulses that transmit long distances. The higher-frequency data transmissions from our encounternet tags do not travel well when transmitted close to the ground, and unfortunately sage-grouse spend virtually all their lives within a few inches of the ground. We've had to put our receivers higher up and a little closer to the birds. The grouse don't seem to care about the pvc poles that are popping up on the leks. We included perch deterrents on our permanently placed receivers to ensure that raptors don't start to use them.
We've also had to do some optimizing on settings and firmware to actually get usable data, and now are starting to get some nice positional data on at least a couple of our correctly configured tags. I've figured out how to get the data into Google Earth to display. Here you can see movements from "Steve", a Chugwater grouse who was first captured as a young bird in 2010 and has been a reliable lek male for the past few years. The points are roughly every hour, and the tracks show him moving a little less than a kilometer from the lek each day. Each day he seems to use a different area.
Next up, in addition to getting the remaining tags properly configured, is to determine which points to visit for vegetation sampling. These decisions will be based on a combination of GPS accuracy and likely activity, hopefully eventually with the accelerometer behavior data as well.