This will be the first of three updates focusing on my recent trip to Iceland for the 13th International Grouse Symposium. I definitely want to thank my collaborator Jen Forbey (Boise State) for this wonderful opportunity. She provided the inspiration (and a whole lot of administration) to put together a workshop on the day before the conference. The theme was how new technology can help us meet management challenges for grouse. In essence, we were able to show off a lot of tools that many biologists have not gotten to see in action.
We arrived in Reykjavik a couple of days before the workshop so we could prepare. We had five groups presenting at the workshop, including aerial mapping using a helicopter drone, terrestrial laser scanning, an "e-nose" chemical sensing device, and a field spectrophotometer for measuring plant characteristcs. Gail and I had a dual station- she shipped the robot and I brought the Encounternet system. Some of the stations went through dry runs at the venue, a small zoo/park in downtown Reykjavik, while the rest of us polished our presentations.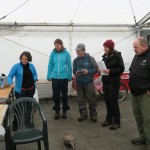 Just like real field work, our careful planning lasted until it didn't. On the day of the workshop we had periods of intense rain and wind. After our initial introductory comments, Gail and I, as well as Donna the drone expert, remained in the tent area. Groups of workshop attendees rotated through the various stations. I think we were a popular one in part because we were inside and next to the coffee!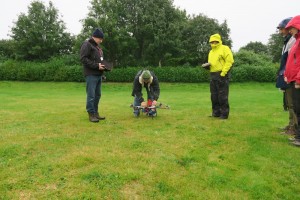 We were certainly popular with this uninvited guest.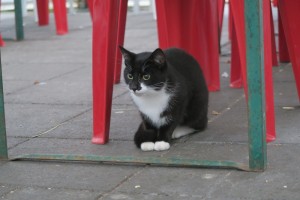 All in all it was an interesting workshop for everyone- I certainly learned a lot about some of the great new tools coming on-line now.