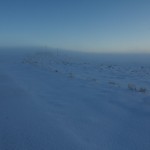 Wyoming weather is still keeping us on our toes. After bouncing from lows around 10 to warm nights in the 40's and 50's at the end of March, we thought we might be back on track for another warm year like last year. Not so fast! A small winter storm became a big one, and we ended up with more than a foot of snow earlier this week. I'm not sure we've kept records, but this was probably the second or third biggest snowfall I've seen since I've been out here.
The biggest was in 2007, I think a day or two after the Pangolin Pictures/PBS crew wrapped up filming, when we got closer to 3 feet of snow. That hit right in the peak of breeding, and we were shut out of Monument Lek for at least 3 days. For our 2013 storm, the peak in breeding had pretty well wound down, so a day or two absent from the lek didn't feel like the end of the world for us. It did lead to one of those stunningly beautiful mornings we get out here. I think a snowy dawn is a close second to a Wind River moonset as my favorite events out here.
The storm started on Monday, and on Tuesday, we headed into town early due to frozen pipes. The same weather forecast that underestimated our snow by about 80% also failed to inform us that it was going to be single digits at night. Ah, the joys of trailer living. Tuesday and Wednesday were snow days. It took a lot of shoveling by the crew just to get the vehicles out, not to mention clearing a path for the ATVs to get out (and Huff Sanitation to get in). Thursday we finally got out to two of our three study leks. Kate headed out on snowshoes to get a count of birds on Monument Lek, while Christa, Elena, and Max tackled Chugwater Lek, with Elena and Christa trying to get close up video of female behavior for Anna's projects.
Chugwater Lek proved to be an exciting place. There were at least nine matings, suggesting that the weather had caused some nest failures, and some of the females were looking to re-mate and try to nest again (or alternatively, the snow kept the females away, causing a build-up of receptive females that we happened to catch on our first day back). Second, the guy doing almost all of the matings turned out to be the guy we captured and banded the morning before the snowstorm. Male number 335 (also called 'Mufasa'), with green and white bands, left our care in very good shape- all his tail feathers, etc. When Elena didn't see his distinctive tail feather pattern ('buttprint') on the morning after capture, we were hopeful that we had gotten the top guy on the lek. In previous years we've done a lot of our capture at the end of the season when males were about to pack it in for the year anyway, and often haven't seen them come back to the lek until the next year. It's nice to see a released bird not only return, but obviously still be top dog even after a day or two away from the game.
By Friday the crew was back at all three leks. Unfortunately there's another storm on the horizon for Monday. It's only supposed to dump 3 inches or so, but that's pretty much what they said last time. In the mean time, all that snow is melting, and we're going to be dealing with some of the worst mud we've seen all season. Keep your fingers crossed!
<Note- I'll throw a few more photos up next time I'm in town- the photo uploader hasn't been working well this morning>