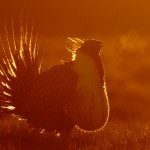 Wow, every year it astounds me how quickly two months can blow by. Field data collection is almost completed for the 2014 field season, and our field crew has one more day (except for Sam who just left to make it to his next field job). One more night of trapping for Julia and Frank, and one more morning of watching grouse butts and writing down locations for Jess, James, and Sean. On Monday Chicken Camp will be Population: 3 once again.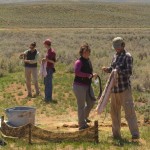 This crew has been fantastic about keeping up with their data this year. They avoided the daunting pile of proofing that catches us at the end of most seasons, and results in pairs of technicians scattering to various perches throughout camp and reading long strings of "Male 645 6:10 AM Stake C5, 4, 2" to each other for hours at a stretch. As a result we've managed to start in on some of the "post season" field tasks in the afternoons. The most noteworthy of these is that we've already pulled the microphone cables at both Chugwater and Cottontail leks. Picking up the cables is definitely easier than installing them at the beginning of the season, but it still takes time to clean the mud off of more than a kilometer of cable, coil it so that it doesn't become a rats nest for the next year, and fill the dirt back in the trenches. Thursday we had glorious weather for this endeavor at Chugwater. Warm, sunny, and fairly calm. Today was threatening to crack 80 degrees with a stiff wind- definitely not the worst weather we've had but that wind can really take it out of you.
We also kicked butt in getting counts of the non-focal leks in the area. It's pretty typical for us to need to complete a final round of counts once the crew leaves. With 6 technicians this year, we could pretty easily spare someone to check out the 10 or so other leks we've been monitoring for the local grouse managers.
Depending on the results of trapping and whether we get film of the male with encounternet tag 77, we may be done with all of our field monitoring of the grouse until next year!
I'll have a more complete recap of the season in the near future.