We are at it again folks. We've left California's balmy winter weather and are once again freezing our tail feathers off in Wyoming. For Gail this is now year 10 for sage-grouse work in the area. For Ryane, Gail's Ph.D student, it is her first time at Chicken Camp.
So what brings us out this year? The answer is some of the same questions that brought us out last year. I'll have more details on our research questions as the field season progresses, but the short of it is we want to study the links between what a male sage-grouse eats and how he forages off the lek, and how that relates to the kind of show he can put on and the decisions he makes on the lek. This will involve putting Fitbit like devices on the birds to figure out where they go and when they are actually eating, then going out and collecting some of the plants they were eating to figure out how their diet compares to other males. We can then measure their courtship chops on the lek by watching them interact with real females or with one of our "fembot" robotic females.
If you want a refresher about sage-grouse and their fascinating breeding system, check out a previous post describing what a lek is all about.
On with the adventure…
Right now we are still in the set-up stage.  With the help of several other Patricelli lab members (thank you Dustin, Mary, and Alli), we packed our vehicles with research gear and drove out from Davis. As trips go it was pretty uneventful– blue skies and clear roads for the whole trip. As we pulled into Lander, we came across a large herd of elk near the top of Red Canyon.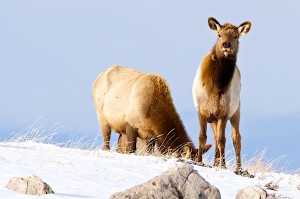 Getting four trailers (two travel trailers, an equipment trailer, and a leased office trailer) out to our field site always seems simple in principle. Yet somehow it is always a much longer process than one would think. Our first full day in Lander ended with just the main travel trailer up the hill to Chicken Camp- between unloading some gear from the trailer, hitching up, driving it to an RV park to flush out the antifreeze, unhitching, hitching up again, chaining up for the somewhat snowy road, and then finally getting it in place and leveling, it is quite a process! This is one of the dirty little secrets that nature programs don't tell you– the logistics of doing field work are a story to themselves.
Gail's new trailer joined the Trailbag yesterday, and today we got the office trailer delivered from Casper on the first try. Often there are high winds that prevent delivery, sometimes for several days. It seems like when we give ourselves a few extra days in case there is a delay we don't end up needing the buffer, but when we cut it too close then we get the stretch of bad weather as we did last year.
The main thing we have been battling this time around is the bitter cold. Temperatures have been in the teens so far so it's made all the loading and unloading pretty unpleasant.  On day 2 I was smart enough to put on rain pants after having my soaked jeans freeze solid on day 1. The cold has affected our trailer too. The water pump isn't working right now. I guess of the amenities we have, losing water faucets is not a big deal as long as we have heat and electricity. We have two or three days to get that sorted out, and also to unpack, before our crew arrives.
For the next update, hopefully we will have some news from the leks!