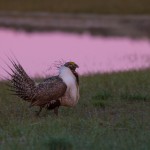 I'm sitting in our main trailer listening to the rain patter down. It is a rainy Sunday, and we are probably ½ of the way done with packing and clean up. Grouse season is over for us. Andre and Jessica have left for their next adventures, and we've literally pulled up stakes and folded our tents.
It was a fun and productive last week. We got a few days' respite from precipitation and were able to squeeze in some last experiments for Ryane's project. The crew also finished their last vegetation sampling day- against all odds they actually completed samples at all eight of our target leks. Gail and Holly Copeland continued their Sisyphean struggle to get useful noise regulations for sage-grouse habitat in place, and spent a day with some Red Desert Audubon folks teaching 4th graders about birds and what it's like being a sage-grouse biologist.
On the fun side, we watched the sun set from the 360 panoramic view at Nine Mile Hill, made the annual pilgrimage to the petroglyph area at Castle Gardens in the Gas Hills, and watched The Sagebrush Sea on Stan's giant TV while eating moose burgers and ice cream. It was an epic week for eating, as we also worked in a salmon chowder from Jessica's cache of Alaskan salmon, dinner at Cowfish thanks to Ryane's mother Patti (thanks Patti!), and the end-of-season 'thank you' dinner from Gail at Svilar's in Hudson. And one last pan of my famous buttermilk biscuits too!
Cottontail remained an adventure until the end. Experiments on the left (west) side of the lek remained impossible due to the high water level. Even if we could rig Salt and Peppa to be amphibious, the birds in those areas were all forced from their territories. Many of them simply moved away from the water, and we found them squabbling for new territories above the water line. Others disappeared, and one banded male even showed up on the upper lek.
We got GPS points for the stakes we could get to, and even retrieving the stakes was a bit of an adventure!
The high water did lead to some interesting photo opportunities though!